In Jess' memory we are raising money for children suffering from medical conditions.
Inspired by Jess' love of music, we aim to help hospitals and hospices in Suffolk and Cambridgeshire by supporting the provision of music therapy.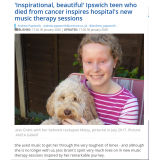 Jess, her charity and the new music therapy service at Ipswich Hospital  all featured in the East Anglian Daily Times and the Ipswich Star recently. You can see the full article at: https://www.eadt.co.uk/news/ipswich-hospital-music-therapy-sessions-jess-grant-celebration-1-6491664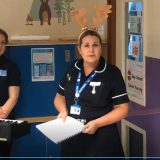 Thank you very much to Chris Brammer at Ipswich Hospital for providing us with the video he created at the launch of the new Music Therapy Service on the Children's Ward before Christmas.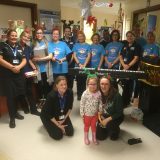 Incredibly excited and proud to be able to announce the official launch of a brand new music therapy service for children and young people at Ipswich Hospital. We're delighted that Jess Grant Celebration has been able to provide funding to initiate and support this new service at Ipswich so soon after the creation of Jess' […]